2019 Tryouts
We apologize for the change on our TRYOUTS time. SFRPD made a slight change to our permission time. Please SEE BELOW to make sure you come to the tryouts at the correct time for your age group!
SF RUSH FC will be holding tryouts on April 28th At West Sunset Playground Field 1
If your child cannot attend tryouts, please contact us to schedule an evaluations at one of our practice during the week.
SF Rush FC is committed to the development and success of Elite student athletes. Our highly experienced Coaching staff fosters a competitive environment that allows players to achieve their highest aspirations, driven by perseverance, integrity and exceptional character. Vision Statement The future for SFRFC is one full of promise and dedicated purpose. The vision for our Club is to attain and improve in the following areas:
Attract and retain the best coaching staff in the region by supporting the continued development of professional, accredited coaches. 
Cultivate enhanced scholarship funding to remove financial barriers for all players; giving individual attention and concerted effort towards financial hardship cases. We strive to draw and retain driven athletes without financial concerns.
Lead in the San Francisco area as "The Club" for youth recreational and competitive soccer.
Provide multi-tiered soccer development opportunities for traditional "select" players to train and develop with the exposure and offerings included within the competitive soccer environment.
Foster a lifelong allegiance to SF Rush FC, trusting alumni to pay it forward by mentoring and encouraging the development of an athlete, student, coach and parents of future players.
PLEASE BRING A BALL TO THE TRYOUTS!
Tryouts will be held on April 28th 2019 at West Sunset Soccer Fields from

9AM - 1PM
All offers are available on registration page.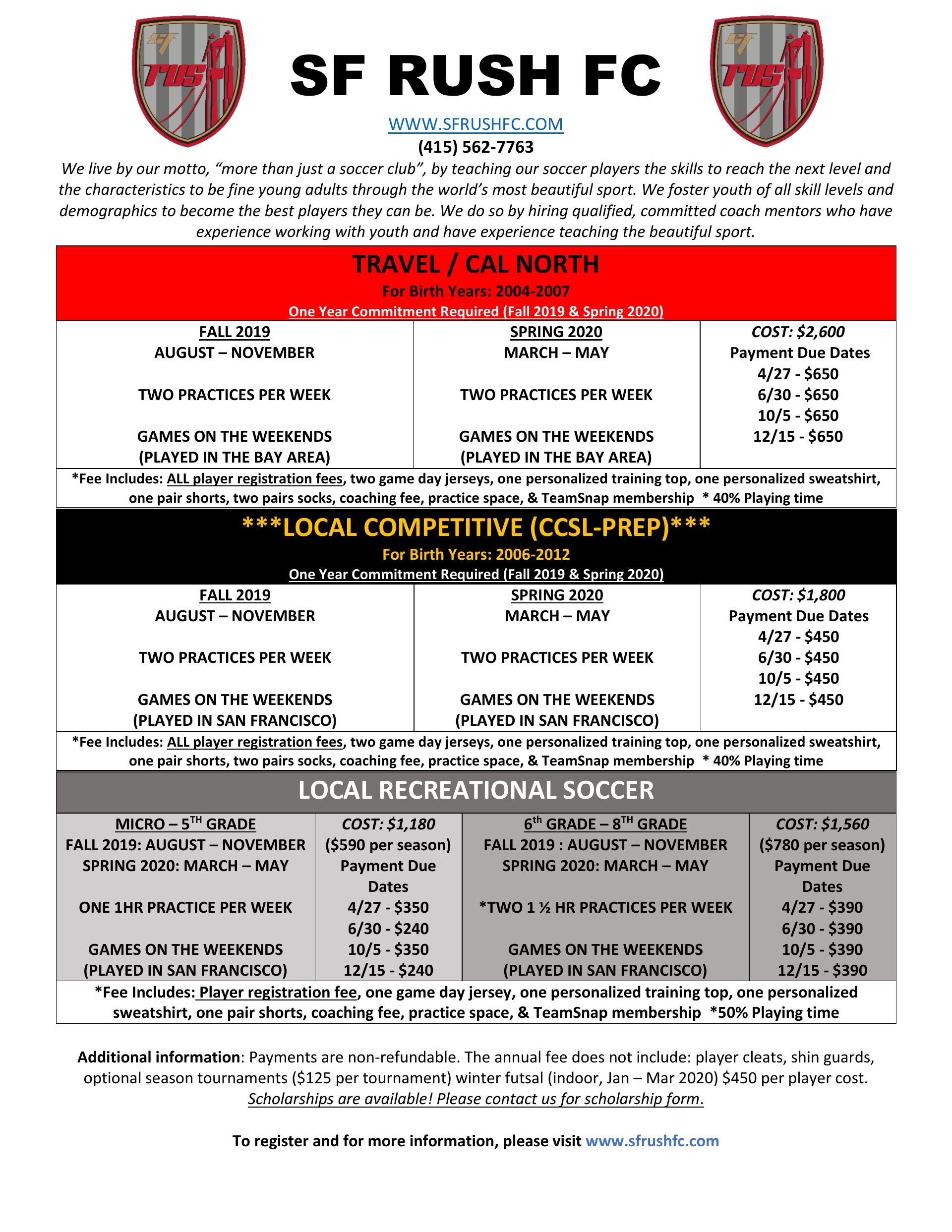 Overview of the tryouts
| Birth Year | Team | Location | Dates | Offers Start | Registration Dates |
| --- | --- | --- | --- | --- | --- |
| 2004 - 2006 | Travel / CAL NORTH (2004 - 2006) | West Sunset Playground Field 1 | April 28th At 9AM - 10AM | 4/28 | 4/28 - 5/12 |
| 2007 - 2009 | Travel / CAL NORTH (2007 - 2009) | West Sunset Playground Field 1 | April 28th At 10AM - 11AM | 4/28 | 4/28 - 5/12 |
| 2006 - 2009 | Local Competitive (2006 - 2009) | West Sunset Playground Field 1 | April 28th At 11PM - 12PM | 4/28 | 4/28 - 5/12 |
| 2010 - 2012 | Local Competitive (2010 - 2012) | West Sunset Playground Field 1 | April 28th At 12PM - 1PM | 4/28 | 4/28 - 5/12 |
×
Tryout form registration